This past weekend was fairly productive on the racecar/garage front. I have been able to get alot of my racing supply boxes organized and rearranged with newer bins. That is exciting because it allowed me to consolidate and revamp our supply. I like having everything I need at "arms length" when I am at the track, but there is no need for our points distributor backup because we don't run a points ignition and we already have backups for our msd electronic ignition. Small stuff like that will help me reduce load/unload time for the tow vehicle as well as lighten our load. All good stuff.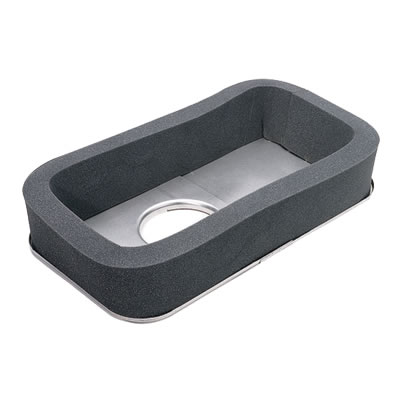 I spend a few hours putting this hood scoop pan together. Alot of fun here. It comes as 3 aluminum pieces and 1 piece of fireproof foam. I was able to cut out a hole in the center for the dominator bowl piece and then drill and pop rivet all three pieces together. Tin snips and a grinding wheel make the job pretty swift work. This pan is for the new engine, so it isn't really useful right now but I thought it would be good to have it ready to go so that I don't have to waste time messing with it after I have the engine built. This 455 will sit in the exact same position in the engine bay as the 400's, so it was a safe bet to tackle this project, even though I don't have a dominator on the car right now.
I did some inspection at the rear of the car and found that the weights that were added as a result of the recent balancing I had on the slicks are VERY close to the brake calipers. I may have to move the weights to make sure that we don't have any issues at speed. I have had weird things happen back there before and don't want to take any risks with regard to clearance or balance.
Also, a fun thing about the spring season, is firing up the car for the first time. I was able to do this and it started right up. No visible leaks, no major concerns. It seems like the car is ready to get out there and run! That first start is always more fun if there are no leaks 🙂